Experimental Stations and forest plantations
Experimental Stations and forest plantations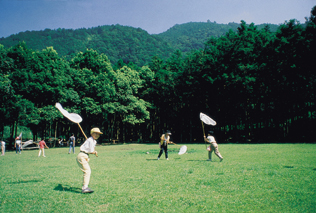 Experimental Stations and forest plantations are one of the characteristics unique to the College of Agriculture and Natural Resources. This College manages Agricultural Experiment Station, which is located in BeiGuo, WuFeng Township, TaiChung County, with an area of 18 hectares, and Horticultural Experiment Station,which includes Viticulture Research Station and Highland Horticulture Station. It also owns four forest stations with a total area of 47.4 hectares in Taiwan. The Experimental Forest Administration Office manages four forest sites, which are Hui-Sun Forest (situated in Renai Township, Nantou County, with an area of 7,477 hectares), Hsin-Hua Forest (situated in Hsin-Hua Township, Tainan County,with an area of 373 hectares), Dong-Shi Forest (situated in Dong-Shi Township, Taichung County, with an area of 302 hectares) and Wen-Shan Forest (situated in Hsin-Dian City, Taipei County, with an area of 117 hectares).
Agricultural Experiment Station and Horticultural Experiment Station serve as the environment to support the teaching, learning and research work for all the faculty members and students, and to assist visiting professors and students from sister universities overseas in their practical studies. These two Experimental Stations are not open to the public during the academic calendar. But since the opening of the experimental stations as recreational parks can meet the needs for the extensional and educational purposes to the community, both stations have been promoting eco-tourism by offering both entertainment and education facilities. All the facilities are established as part of the natural environment so that there are minimum disruptions to the ecosystem. It is the goal of these two farms to provide a showroom to the variety of the ecosystem in the magnificent forests, leaving all the natural environments intact.
On the other side, two Experimental Forests have their respective characteristics due to different topological environments. Hui-Sun Forest, amid high mountains and valleys, boasts beautiful scenery with peaks and troughs in between. There is a difference of nearly 2,000 meters in altitude from the highest point of 2,419 meters in altitude on Shou-Cheng Grant Mountain and the lowest point of 450 meters in altitude at Greeting Green Bridge. The varying heights within this geographical environment provide sub-tropical, warm belts and temperate climates, as evidenced by the vertical distributions of different forests and vegetations.
Hsin-Hua Forest provides a showcase to the management of tropical forests. There are a large number of specimen trees for gathering, research and ecosystem-teaching in the wild. With appropriate spacing of trees and a tranquil environment, Hsin-Hua Forest Station is the ideal place for leisure and bird-watching in TaiNan region. A lot of bird watchers enjoy their activities here. It is currently the catchments area of Hu Tou Pi Reservoir.
The Hui-Sun and Hsin-Hua Forest Stations are equipped with practical training centers and both provide work and accommodation services to both professors and students. Limited Tourists are also welcome to visit. Their aims are to serve as an ecosystem platform in education and entertainment, to enable the combination of theories and practices in the study of management and production of the agriculture and forestry industries.
NCHU's Agricultural and Forest Experiment Stations have hosted many events and activities that were hugely popular. Various events of special themes are organized in accordance with the seasonal changes of the farms and forests. Examples are coffee festival, lighting bug festival, summer camps and Hui-Sun festival. Please visit the web pages of the College of Agriculture and Natural Resources for details.
Link